Welcome to BEST WESTERN Red River Inn
We want to inform our future guests of our policy and operational procedures as it pertains to the coronavirus (covid-19).We have put in place strict changes to ensure your safety and peace of mind based on recommendations from the Center for Disease Control.

We have implemented strict policies on cleaning our hotel and we are using commercial disinfectant to sanitize all areas of the hotel including the common areas, elevators, pool areas, fitness rooms and the guest rooms. We have procedures in place to make sure all areas are wiped down frequently to prevent any exposure to you and your family. Our housekeeping staff has been trained to sanitize all areas of your room as the final step before finishing the cleaning of your room. Your are important to us and we want you to be reassured that we are taking all necessary steps to ensure your safety.

Thank you for your patience and we thank you for your understanding as we get through this unprecedented global crisis.

Located off Highway 44, this Burkburnett hotel offers spacious rooms with free Wi-Fi and a cable TV. It features an indoor pool and is 9 miles from Wichita Falls Municipal Airport.

Hotel is under Renovations and Pool will be closed till May 12th

All classically furnished rooms at the BEST WESTERN Inn Burkburnett include a large work desk and a seating area. All rooms are provided with a single cup coffee maker, hair dryer, iron, and ironing board. A microwave and refrigerator are provided in deluxe rooms and suites.

Guests can enjoy free access to the on-site fitness room or use the computer with free Wi-Fi in the hotel's business center.

The Burkburnett BEST WESTERN Inn offers a daily breakfast and the Suite Shop convenience store is open 24/7.

River Creek Golf Course and the Kiowa Casino are both an 8-minute drive from the hotel. The Wichita Falls Museum of Art is 17.4 miles away.
---
Hotel Features

Free High Speed Internet WiFi
Free Parking
Free Deluxe Continental Breakfast
Indoor Heated Pool Closed till May 12th
Business Center and Meeting Room
Fitness Room
Suite Shop and Comfortable Lobby
24 Hour Front Desk
Flat Screen TV's and Cable Channels
Coffee Maker, Hair Dryer, Iron, Ironing Board
Family and Business Suites available
Pet Friendly Rooms available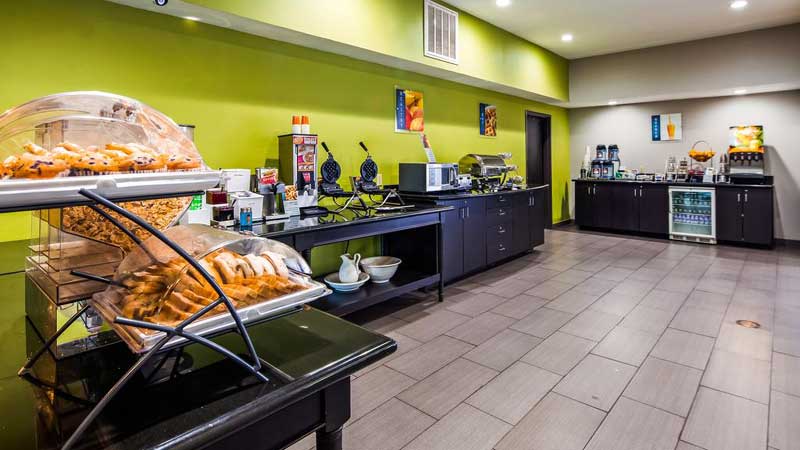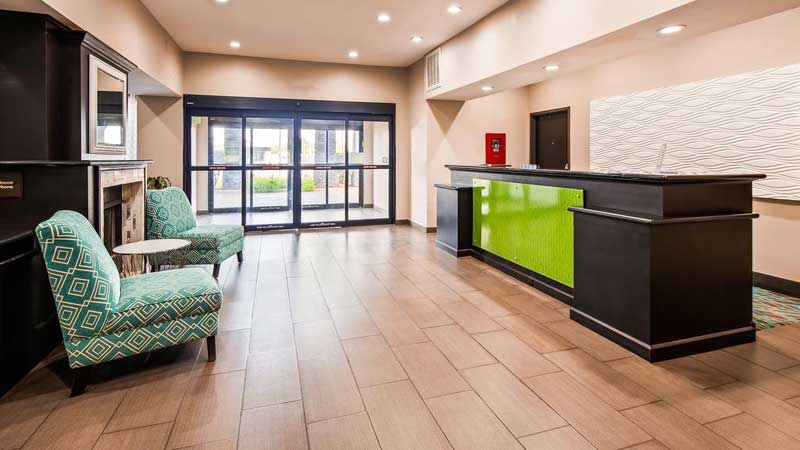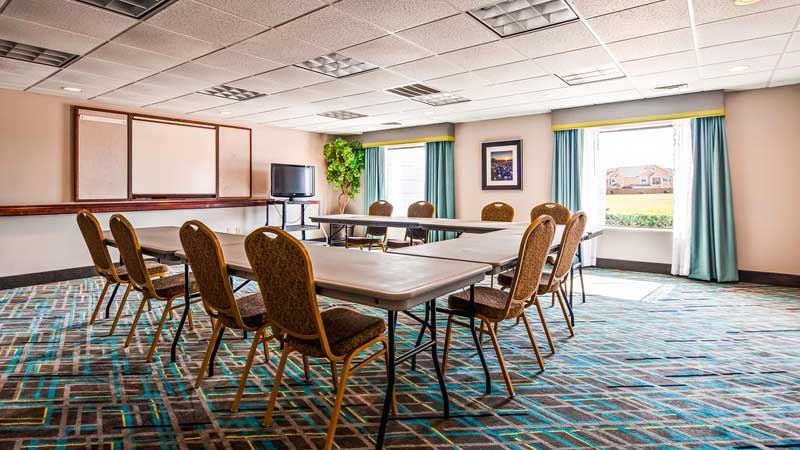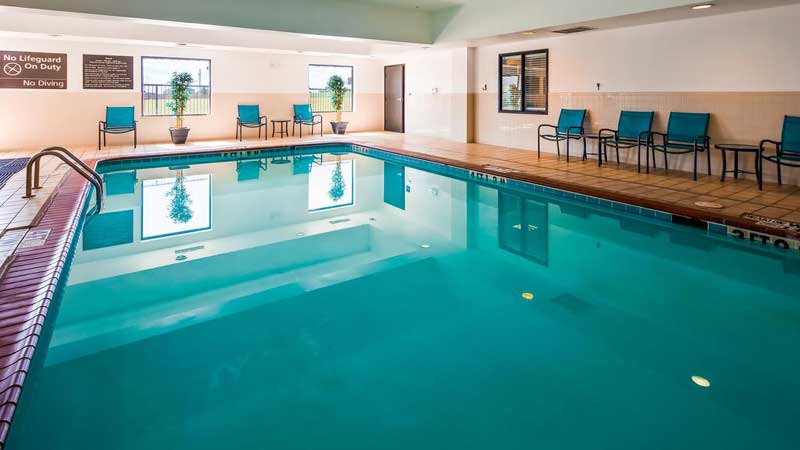 Activities : Boomtown Fishing Derby The City of Burkburnett's Park Department annually hosts the Boomtown Fishing Derby at Friendship Park Pond for children ages 12 years and younger. There is a minimal fee to compete in the Derby. It's a fun, low-cost family activity and a great way to introduce your children to the love of nature. For more information, call City Hall at 940.569.2263
Airport : The Wichita Falls Municipal Airport is a joint Military/Civilian Airport utilizing the runways and taxiways of Sheppard Air Force Base. The airport is served by one regional airline, American Eagle, with service to the Dallas/Fort Worth International Airport.
Dining : The Feed Lot Restaurant has built a reputation for serving up delicious "Home Style" meals at an affordable price for many satisfied customers from all over the United States. And if you leave hungry, its your own fault!
Golf : Welcome to the finest golf facility in North Texas, the River Creek Park Golf Course. We are situated just north of Wichita Falls in America's heartland plains along the beautiful BEST WESTERN. Since 1976 we've been providing exceptional service for the area's golf enthusiasts. Make your next golf experience perfect at River Creek Park Golf Club.
Government : Welcome to Burkburnett, Texas ... BOOMTOWN, U.S.A.! We are extremely proud of our community, our heritage and our "Family Friendly" way of life, and invite you to spend your time with us. Our community is firmly grounded in traditional American values and down-home, small town charm.
Hospitals : United Regional is your partner in good health. Throughout the year we will provide education about the prevention and treatment of many health conditions. For more information on the health and wellness topics, click here.
Shopping : Factory Connection offers a wide selection of brand name fashions for Juniors, Misses, Plus, Men's and Young Men's, along with accessories and shoes.
University : Midwestern State University is accredited by the Southern Association of Colleges and Schools Commission on Colleges to award associate, baccalaureate, and master's degrees.
Attractions : The little MK&T Depot that sits near the railroad tracks in Burkburnett is within a few yards from where it sat originally when it first came into being in the early 1900's. It served travelers to and from Burkburnett from its conception, through the oil boom and after.
Casinos : Our Las Vegas style Gaming floor offers 900 of your favorite slot machines. Come experience favorites like Cleopatra, Wheel of Fortune, Penny Frenzy and many more. The Gaming excitement is non stop for all our guests. Our machines are in denominations from 1 penny to 5 dollars. If you're looking for winning slot action, come play with us at Kiowa Casino, where winning is the name of the game!
BEST WESTERN Inn Burkburnett Texas TX Hotels Lodging Accommodations Budget Affordable Motels Cheap Vacation Packages Specials Pet Friendly Weddings Business Travelers Business Meetings Extended Stay